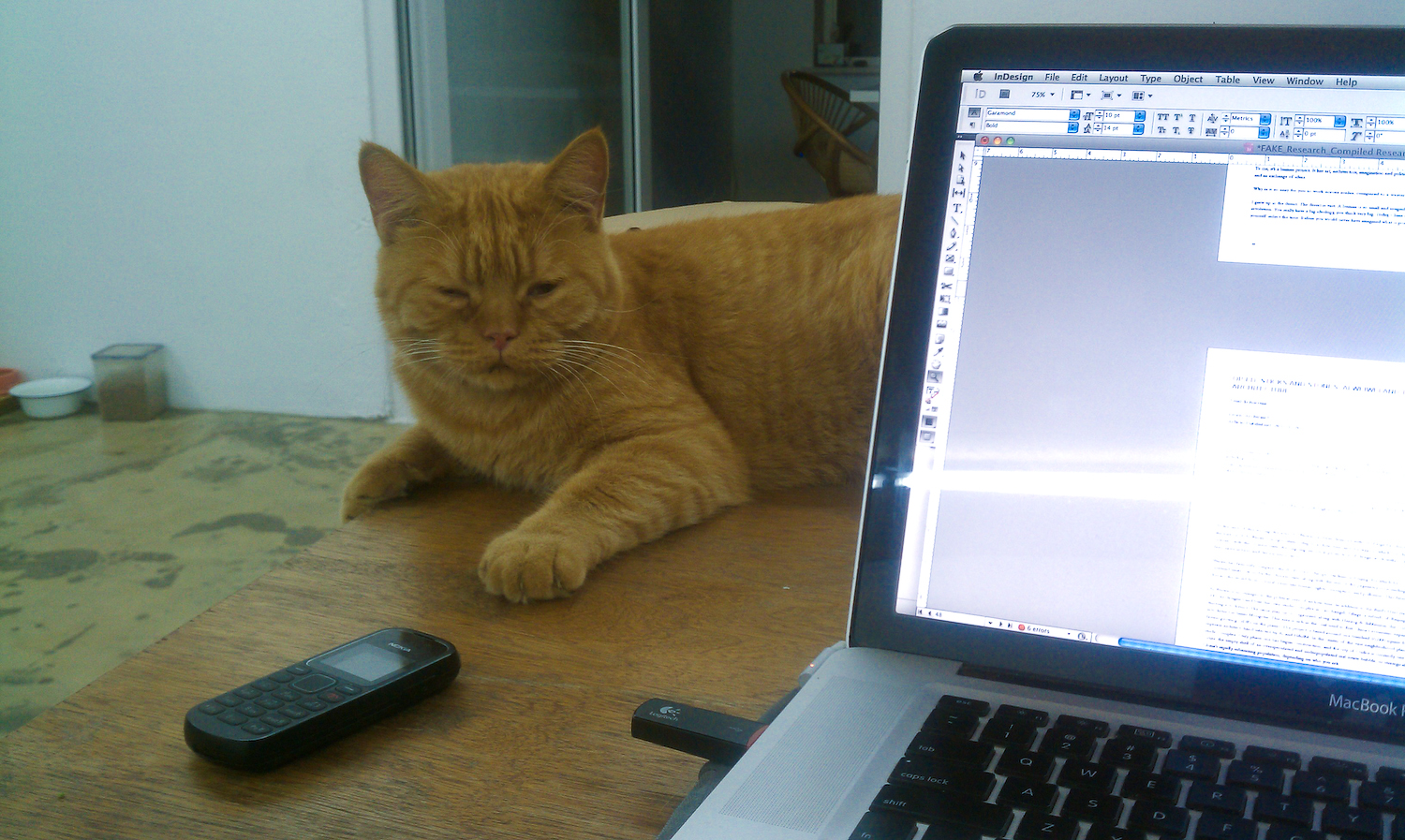 Working Conditions

2011.08.18

Garfield is one of many felines in my life, and we're getting on just fine, but that liquid is precisely what you think it is. Not to be outdone, free hair cuts are on offer. Out of respect for the families and the children who may be at the weddings I'll be attending in September (and no, not a lack of courage) I have opted against a new look.
Back in China
2011.08.08
Internet access is a bit limited these days. The internet service provider for 258 Caochangdi broke its contract when the
Chubby Fella
returned. Now the office is left with only dial-up.
After subsisting on a weak signal from the courtyard outside B.A.S.E., I wasn't able to connect this morning. Timezone 8 is my last refuge for the Intertubes. Luckily, they have happy hour Manhattans for under four dollars (except when they bring me Mai Tais. Long story).
FAKES AND FAKES
Made in China: Fake Stores

Laurie Burkitt, Loretta Chao,
The Wall Street Journal
Over the past few months I've had a fake DQ Blizzard, bought (multiple) pairs of knock-off shoes, and consumed a not-quite-right turkey sandwich from an establishmet claiming to be Subway--all passing facsimiles of standardized American mass production. Now, if China could master the finer things, we could finally get a Potbelly in this place. And a Five Guys soon after.
China's Manhattan Knock-Off

Colleen Kinder,
The Atlantic
On the one hand, a carbon copy of Manhattan could be the best thing to happen to Chinese urban planning since, well, ever. On the other, the Financial District, really?
Ai Weiwei Gets Back to Tweeting
Andrew LaVallee, The Wall Street Journal
This could make my summer a little more interesting… but who could get upset at pictures of Ai Lao (means "old Ai") and He Yunchang's son hanging out. Their shirts say "Where's Weiwei?"
OUTSIDE THE PEOPLE'S REPUBLIC
V
ilnius Mayor Mounts a Tank to Crush Car Parked in Bike Lane
Laura Rozen,
The Envoy
If this blog had a Man of the Year Award (to say nothing of a readership), Arturas Zuokas would be the hands-down favorite.
Architect Barbie is a Michigan Grad

Taubman College,
University of Michigan
Go Blue? I couldn't be prouder.


A Ni Hao Cesuo
Caochangdi, Beijing, CN



Beijing's Public Toilets
2011.07.21

"If you have to shit, shit! If you have to fart, fart! You will feel much better for it." – Mao Zedong

"My trip reminded me that we are all just animals, that stuff comes out of every hole we have, no matter where we live or how much money we've got. On some level we all know this and manage, quite pleasantly, to shove it towards the back of our minds. In China, it's brought to the front, and nailed there." – David Sedaris

"You know, people just never stop shitting." – Ai Qing

As a gross overgeneralization, the Chinese tend to have a casual relationship with their excrement. The unsuspecting Westerner might be a bit off put by the public spitting, phlegm-hacking, and gratuitous belching that, while officially not condoned, is nonetheless a part of the daily patois. The pants of most young children in China are equipped with a special type of ass-flap/exit hatch allowing them the liberty to relieve themselves at will. They do. Anywhere, everywhere, and often without warning. Though it's considered polite for the parents to clean up afterward, experience suggests that this is less common than you would expect.

Part of this informality stems from the long-standing city's longstanding reliance on public toilets, which today are more numerous than in any other city. Less sanitary than even the most pride-diminishing accommodations in US—somewhere between the Port Authority crossed with the sleazy dive bar from Trainspotting—these buildings house gag-inducing refuse pits that are cleaned manually once a day. Because most of the homes in Beijing's central hutong neighborhoods lack sanitary plumbing, the public toilets are to some extent hubs for public interaction. It's not unusual to see neighbors often striking up conversations in the middle of the night on the way to, and in, the lou. This is made all the more convenient in the many facilities lacking dividers between pits, which are known informally as "ni hao cesuos," or, "hello there, toilets."

Central Beijing's toilets were not always public. Instead, they belonged to the wealthy clans that occupied the courtyard houses, siheyuan.While the well-off southern Chinese mounted urns of bronze, toilets in traditional courtyard houses were located in the southwest corner of the plot, opposite the main entrance, and were modest holes dug in the ground. Low-ranking members of the Imperial China's social hierarchy were given the unfortunate task of emptying the holes and loading the contents onto carts in the early morning hours.

With the Communist Party's ascension in 1949, the disbandment of bourgeois institutions saw the elevation of common laborers in both social standing and profession. While toilet cleaners became symbols of the ideal laborer, their former position was adopted as a form of punishment for the country's purged intellectuals. The revolutionary poet Ai Qing, father of Ai Weiwei's and once a favorite of Mao, was exiled to a small village in the Mongolian desert during the Cultural Revolution where he was forced to clean toilets until after the Chairman's death.

Today, public restrooms come in various shapes and sizes. Those adjacent to popular tourist destinations have been renovated with modern materials, operable windows, and in some cases doors and dividers. Others, like the one in Caochangdi (above) remain crude outhouses that leave little to the imagination. Under regulations passed within the last decade, every new housing development in Beijing must be equipped with running water and a private toilet, spelling the eventual phasing out of the public toilet. However, the dense and narrow network of hutong streets makes large-scale infrastructural retrofits nearly impossible, which the toilets and their accompanying odor are here to stay, at least for now.


Breakneck Speed

July 24, 2011


Geoff and I rode the new bullet train from Shanghai to Beijing, hitting at speeds upwards of 175 miles per hour, feeling weightless. It was a window into the future of mobility—one that the United States may never get to know. Our train covered 820 miles from Shanghai to Beijing, about the same distance as New York City to Chicago, in less than five hours.
Then, this morning, we woke up today to this news: Chinese bullet train crashes into another high-speed train; 35 dead, 191 injured.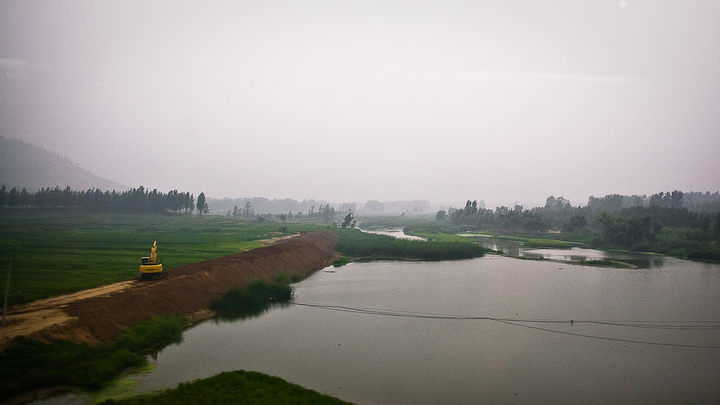 Linked Hybrid (from the back of a cab)
Beijing, CN
Steven Holl
Opened 2009

2011.07.24



The Cultural Strange: Ambiguous Interiors
Hostel in Beiluoguxiang, Dongcheng District
2011.07.24

Innovations in the delineation between public and private space.
Street Crossing near Wan Chai
Hong Kong Street Scenes
2011.07.19
The Water Cube
2011.06.30
I normally don't get excited about water, taking my shirt off in public, or amusement parks—three things that seem to go hand-in-hand. However,I required little convincing when I heard that the Olympic Swim Center, otherwise known as the Water Cube, had been converted into an indoor water park. Off flew the shirt. On went the trunks. I spent about twenty minutes in the mirror perfecting casual methods of obscuring my recent dumpling-borne love handles. Then my friends informed me that we wouldn't be going until next week.
Like the rest of the Olympic landmarks, I assumed that the Water Cube had fallen into disuse after The Olympics. The Bird's Nest, beautiful and impressive as it appeared on television, serves mostly as an increasingly dirty monument to a specific moment when China took center on the world stage. It does not host sporting events.
Check out more pictures from Matthew Niederhauser's
blog
. He lectured at B.A.S.E. this past week on his photography in China (frequently featured in the New York Times, Time, etc.)
Looking Good, China

2020.06.29
I tend to be finicky about my hair. Uptight is another word. Anyone who has had the misfortune to be around me when I've been on the bad side of a pair of clippers has witnessed an infantile meltdown.
1
So it took no small leap of faith when I had my haircut this week without the assistance of a Mandarin translator. It was just me, two English-speaking friends, and our combined powers of hand gesture.
We each made it out of the experience whole, though not without anxiety. Neither Geoff or I had much hair to lose, and weren't exactly primed for a makeover. When pointing at haircuts on the wall, we each erred toward the "nerdy member of a K-Pop band" style--still aggresive by the standards of your run-of-mill American barber. Nick, on the other hand, provided the stylist with an surplus of hair and went all-in on a transformation that included a straight iron and a hairdryer. Both, he claims, were previously foreign to him. He came out looking like the front man.
We celebrated our man-primping with dinner at the Fodder Factory, our favorite village spot, and attracted some attention from the locals. The next day we headed to
San Li Tun
, a Westernized area of town where we were having suits made for us by an English-speaking tailor named Amanda. Geoff and I had stopped in earlier in the week to have our measurements taken, and four days later we were ready for our fitting. I had a custom two-button suit made for me—thin lapel, narrow and tapered leg, double-vented back—as well as a shirt made for roughly $185. This could be dangerous.
1. Feel free to consult my high school prom photos if you're curious what inverted sideburns look like.

A Happening Night in the Village
2011.06.23

These rides seem to be mandatory for anyone who opens a corner grocery, which exist not just on every corner but also multiple times in between. Kind of bizarre, but clearly, the kid is having the time of her life.



The Important Things in Life
2011.05.30

When you're in for a long night in the studio, you have to make things interesting. It's a summer studio after all, so we're running a Mad Men marathon using the wall for a projection screen—Yanjings a plenty.


Tiananmen Square
Beijing, CN
2020.05.17



You Might Turn To Stone
2011.05.29

This is from Tiananmen Square our first week here. I like the photo well enough, but my friend Geoff took a National Geographic-quality version that you can see here.
Caochangdi at Night

2011.05.28
The Olympic Village
2011.05.28

This photo is from the second day of my trip. Lacking any sort of story to tie it to, I didn't post it. It was a "look-and-see" sort of day, the four of us fresh off a 14-hour flight and little idea of how to get around. Geoff, ever-reliable, has an iPhone app that translates directions from English into Chinese characters. We eagerly showed cab drivers his screen, did our best Mandarin pronunciation, and accepted the one-to-four ratio of drivers willing to deal with us.

The Olympic Village itself a strange place--equal parts parade route, World's Fair, sacred space and half-vacant shoping mall. Deferred maintenance is already beginning to show on some of the monumental structures. Pollution has taken luster off the Bird's Nest. The paint is beginning to fade and the water in the surrounding park is turning green with algae. Buildings are also being converted for commercial use. The Water Cube is being renovated into an indoor aqua park with slides, rapid pools, and lazy rivers.

There is an aimlessness with which people (mostly tourists) wander the grounds. Having entered through the security perimeter and trapped by their own sense of touristic pursuit, they look for the best spot from which to photograph of the Bird's Nest. There is ample place to roam. The mutant-like scaling of the open space surrounding the stadiums are huge! Imagining these Stalinist plazas in the dead of winter, snow-dusted and completely void of human activity has an intriguing air of stillness, both exciting and depressing, that I can't quite explain. As one friend puts it, "it's interesting for all the same reasons that we go to horror movies. There's something perverse and enjoyable about being made uncomfortable, at least for a few hours." I'm not exactly sure that logic quite follows through. This is after all, a massive park in the middle of one of the world's largest cities... and if you can't tell, he's into dark, uncomfortable places.

Nan Gao
Beijing, CN
2020.05.17


Beijing by Bicycle
2011.05.26


My love of bikes is well-established—a hereditary condition passed down from my father.1

At the beginning of the term I had the luck to be assigned the one road bike in B.A.S.E.'s entire fleet. The excitement over my good fortune was short-lived, as I quickly realize that it had two flat tires, and few bike shops sell an air pump for presta valves (most tires in Beijing are equipped with Schrader valves or a Chinese equivalent). In lieu of actually solving the underlying problem, I spent the next two weeks getting around by foot and ignoring the fact that I was letting a perfectly good bike gather dust.

With the issue still unsolved, I took this little cruiser out for a spin a week-and-a-half ago to visit neighboring villages. Along the way I came across what looked like traditional Chinese architecture, but turned out to be an imitation facade pasted onto a government office building. Worse yet, my bike started to fall apart and no amount of verbal abuse, coaxing, or sweet-talking seemed to make it run any smoother (I did consider that the bike spoke Mandarin, and my curses were lost in translation). At any rate, it must have been quite the sight—me on a bike two sizes too small, cutesy basket out front, peddling my hardest and getting nowhere as cars honked and swerved around me.

The next day I went out a bought a new air pump and have been riding the road bike ever since.

1 His love for cycling has cost him a few broken bones, but never deterred him from getting back in saddle. He's a bit stubborn—another hereditary trait.